John J. Carroll Administration Building
1 Lyman Place, Norwood, MA 02062
Mark Ryan,

Director of Public Works/Town Engineer
Gary Schorer,

Assistant Superintendent of Public Works
Joseph Girard,

General Foreman - Water/Sewer/Drain
Michael Driscoll,

General Foreman - Highway/Parks
Sara Winthrop,

Administration Manager



Phone:
781-762-1413
Hours of Operation:
Monday - Friday 7:00 a.m. - 3:30 p.m.

Email: dpw@norwoodma.gov

We want your thoughts on improving the environment in Norwood for pedestrians, bicyclists, motorists and transit users. Please come by for an exciting, hands on workshop.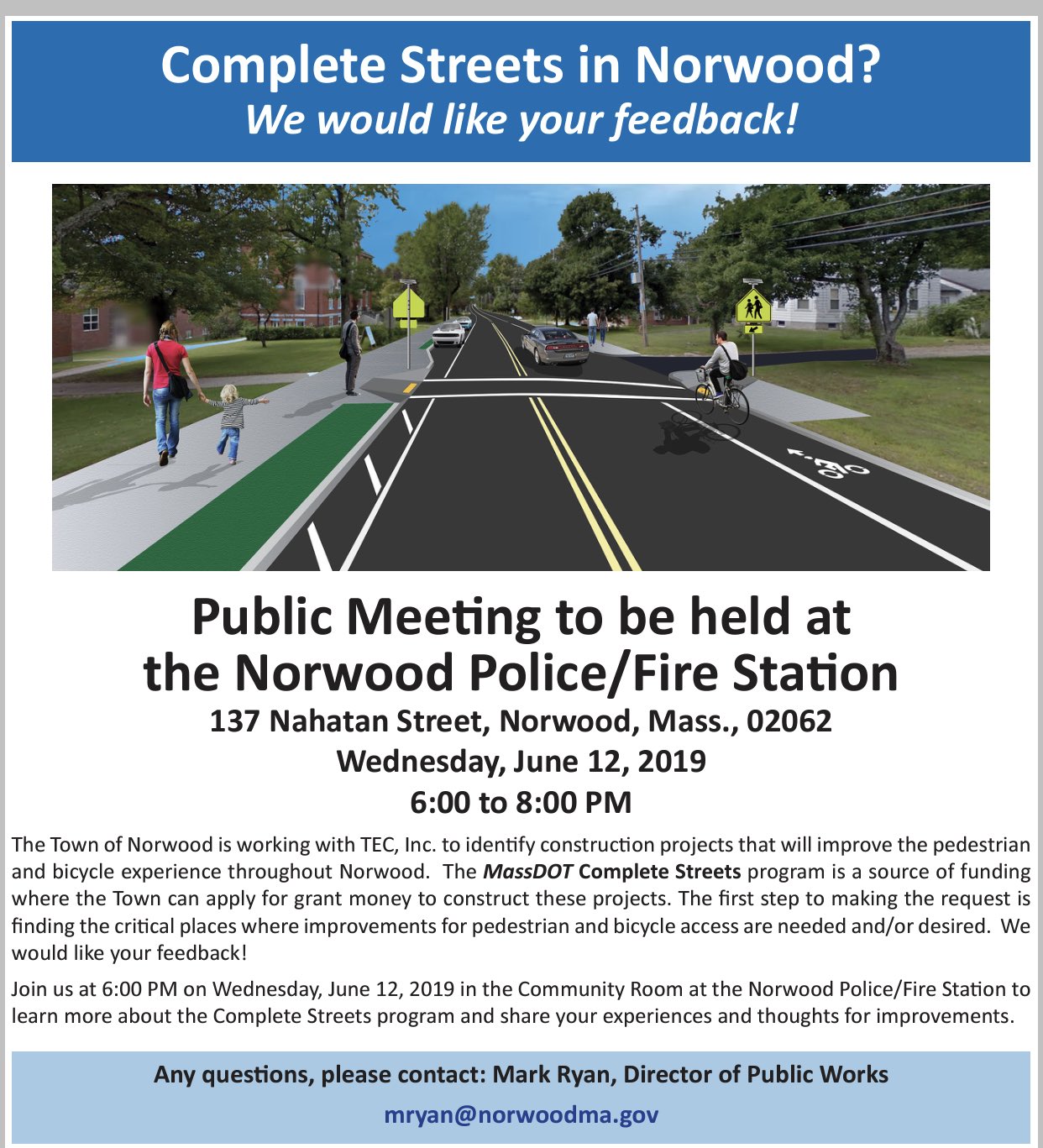 Winter Street Recycling Facility - NEW HOURS!
Beginning Saturday, December 1st
8:00 am - 1:30 pm
Open Every Saturday - All Year Long
Remember - Residential Sticker Required

If you would like to be notified of trash and recycling delays as well as emergencies click http://www.norwoodma.gov/residents/ems_swift_911/index.php

The Town of Norwood now has a Residential Food Scrap Program in place. Please follow the link to get more information.

Please click Trash and Recycling Reduction Tips for nine easy and effective reduction tips.
Trash and Recycling collection and disposal costs are determined by the weighted amount we put into our respective carts. See how you can make a difference and reduce our costs and save the Town money so it can be used for more important things such as our schools, roadways and other important services.

Trash and Recycling Alert
Always make sure trash and recycling carts are out by 7 am!
Waste Management has adjusted the routes so your pick up time of the day may change. Your day of the week for pickup remains the same.

Board of Selectman's Meeting Presentation on Recycling Right - Video


Mark Ryan talking to NCM about Recycling and Sustainability at 9:50 of this video.


---
The Norwood Department of Public Works is responsible for the operation and maintenance of the Town's infrastructure of streets, sidewalks, sanitary sewers, storm drains, public shade trees, miscellaneous town owned buildings and land, various components of the town's motor fleet. DPW is also responsible for Highland Cemetery.